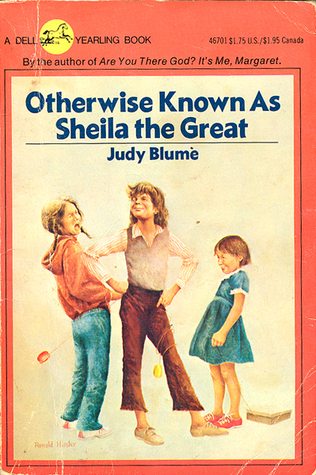 I've been thinking about my "favorite children's stories." Supposedly it reveals something about my personality. I didn't really get into fairy tales all that much. As an adult I like Hansel & Gretel b/c it's twisted. (Kidnapping and cannibalism? Whoa.) But as a kid I didn't have a strong inclination towards any particular fairy tale or nursery rhyme.
The first stories that I remember really affecting me were the Judy Blume books. Definitely. Tales of a Fourth Grade Nothing. Otherwise Known as Sheila the Great (STILL a great title to this day). Deenie. Tiger Eyes. Are You There God, It's Me Margaret. Then Again, Maybe I Won't. Superfudge. Blubber.
Am I forgetting anything? Oh, the dirty one. I never read the dirty one. I'm sure I made up for lost time with V.C. Andrews. (Scarred for life by V.C. Andrews, y'all.)
Of course I was into Shel Silverstein… It was the 70s, we all loved Shel! Sarah Cynthia Sylvia Stout is still my role model. I was also obsessed with this series of books set mostly in England that were all about young kids in show business. Ballet Shoes, Dancing Shoes, Theatre Shoes, Movie Shoes, Skating Shoes… they all had "shoes" in the title. I'm not sure what movie shoes are, but I do enjoy a theme.
I loved Paula Danziger… I read The Cat Ate My Gymsuit about a thousand times. I especially liked that one because it had a super cool English teacher in it. Then there was The Westing Game and the The Mysterious Disappearance of Leon (I Mean Noel), both by Ellen Raskin. I'd like to go back and reread those. Also, someday I am gonna look up these authors… I wonder what they were like as people? As a kid I didn't care, but now I'm curious.
I would be remiss if I didn't mention my favorite, which was – hands down – the Anastasia Krupnik series. (Anything Lois Lowry, actually. Summer To Die was freakin' devastating.) Anastasia was my jam. She was a weirdo but her parents humored her weirdness, which in turn made her fearless. She was truly seen and heard. Like most kids my age, I thought that kids should be seen, not heard. When Anastasia's family moved to a new house, her parents let her have a bedroom in a tower. A tower! She was also at one point convinced that she was the long lost Anastasia from the Romanov dynasty, which was a pretty deep history lesson for my 4th grade awareness of the world. And Anastasia made lists. Lots of lists. I can't get through one day without a list.
Why do I remember those stories more clearly than anything I've ever read in adult life? And what does this say about my personality? I suppose the simple answer is that I dig an underdog. But aren't most great stories about underdogs? We want to see characters overcome adversity, right?
(Yes, there's the occasional case of the "hero" as protagonist – Ferris Bueller, for example… but I will fight to the death that Ferris is not the real main character…. IT'S CAMERON'S STORY, PEOPLE…. and that is a post for another day.)
I think most of the "children's" books above depicted kids as independent humans with their own agendas and feelings. The characters seemed so self-actualized and complete. It's no coincidence that my generation also adores John Hughes, because he did the same thing in his films. And YA fiction still has a pretty big adult audience from what I understand – look at The Hunger Games, for example. Maybe Gen X is still personified by an awkward teenager fighting for a voice. Or maybe that's just me.