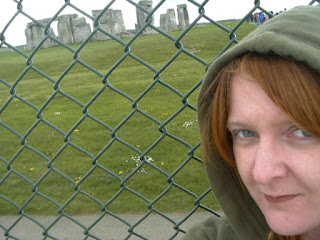 I'm here at my 2nd cousin's house on his computer, so I can't write for long. I have loads of little notes from this trip, on which I might report later.
For now, I am in Somerset County, specifically in
Taunton
.
I just spent the last 5 nights sleeping on the floor on a teeny tiny air mattress, and here I get my very own bed. Hallelujah!
It's been about 5 years since I've been to the UK, and while many things haven't changed, I'm afraid that one of the major changes is – unfortunately – or fortunately, depending on how you look at it – that everything has become even more homogenized and Americanized. Starbucks, McD's, Pringle's, etc…. all of it's here. This has always been the case, but I think now it's at an all-time high, and it kind of takes the "specialness" out of the trip. (Although McD's has a sandwich called the "Chicken Legend," which I must admit has potential.)
Don't get me wrong, I was damn happy to get my iced grande sugar-free caramel latte in Bury St. Edmunds on the second day of the trip… so I guess I'm a hypocrite… but it's far from exploring a different culture. Even in the far-reaching villages, there's tons of Americanized capitalistic crap. My aunt has satellite, so you can see South Park and Scrubs and all of the American shows. Gone are the days of the 4 channels.
At the moment I am on a farm (with internet), and in an area to which I've never been before, so maybe something here will surprise me. But even the wedding we went to… same as anywhere. Menus, prices, people…. same. Dad keeps BBC News on in the car. The big stories are about a teacher's strike, "Teachers aren't paid enough!" Same. Great Britain's "growing obesity" problem… same.
It's interesting to me that the women on TV aren't all stick figures. Some of them are, but many have actual curves… and that's refreshing.
Someone's going to come offer me a cuppa soon. I'm typing at breakneck speed.
I think there are really only a few differences any more – driving on the opposite side of the road, trucks being called lorries, and the fact that a squash isn't a vegetable, it's a juice. That's really about it. Everyone's running around on their cell phones, texting.
On a personal note, the trip is going fine, but honestly I'm about to lose my mind. My Auntie Hazel is deaf in one ear b/c she refuses to wear her hearing aid, my dad apparently can't hear worth a damn, and my mom is extremely soft-spoken. So all I've heard is "WHAT?" "PARDON?" "I CAN'T HEAR YOU." Try listening to that 24-7 and see of you don't want to eat glass.
I am extremely grateful to see my Auntie, she is sweet as ever and we "get on like a house on fire," she says. True. My best friend over here. She's 81 and she almost made me cry last night, saying she doesn't know if we'll see each other again b/c she's getting so old. I really need to come back. It's not a hugely
exciting
trip, but I could just chill with her, watch Eastenders and all of her crappy TV shows (she's especially addicted to anything featuring people "overcoming the odds," as well as Britain's Got Talent). She cooked me a meal when my parents went out one night – sausages and yorkshire pudding with gravy. The sausages were basically an 8-pack of hot dogs. God, I love that woman.
I was excited about drinking a pint of Caffrey's, but I can't find any on tap so far. Pubs are sponsored by different breweries, and most everything in
Suffolk
(where we spend most of our time) is a Greene King house… Abbott Ale, Greene King IPA, Old Speckled Hen… that sort of thing.
I suppose I'll sign off now… back in the states in 3 days… and then I'll post some pics and write about some specific stuff if I can remember it all. Honestly… it's pretty mundane, family stuff, but maybe I can string something interesting together.
Until then…