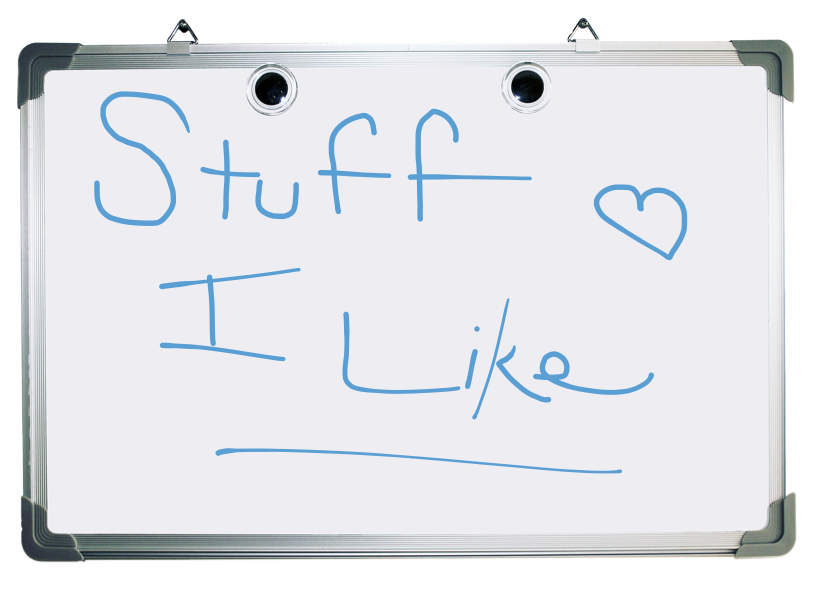 On the off-chance that you're looking for something new to consume, and you're open to suggestions… I'm occasionally writing about stuff I like, and you can find those things here or under "Sharing is Caring" in the site menu.
Full disclosure: People recommend stuff to me all the time. I have a never-ending list of things to watch/read/eat/listen to/visit/experience, which I often refer to as simply, "The List." And… I get to The List maybe… twice a year? The List of recommendations I've received (and have yet to check out) is embarrassingly long.
It's not that I don't value other people's opinions! I do! Sigh. I don't know what's wrong with me… It just takes me a while to get around to it. For instance I am the person who still hasn't seen The West Wing, but before anyone can chastise me, I will immediately start shouting, "Okay yes, BUT I've seen Sports Night! I've seen The Newsroom! I'll watch it someday! It's on The List!" Because… I truly do want to watch The West Wing… I just want to have the time to really dig in, ya know? It'll happen.
Everyone begged me to watch The Good Place… I finally did…. changed my life, y'all. Ohmygod. Just loved it. Excellent rec. Took me 5 years to watch it. Same with Parks and Rec. Same with Community. All delightful. Have I seen Ted Lasso? The Sopranos? This is Us? I think we all know the answer. But they're on The List!
I lived in New York for 5 years and never went to The Met. Everyone told me, "Please for the love of all that is holy, GO TO THE MET," and then I finally did – and yeah…. Shoulda gone way sooner. And then I moved away a month after that, but I DID go! Never made it to a baseball game, though. That's still on The List.
I was late to the podcast game. I occasionally listened to RadioLab, but that was it. Mostly I thought, "Why listen to a story when I could read it? I don't get it." Everyone told me, "Okay, just listen to Serial," and then came the avalanche of recommendations for S-Town. Okay, NO, I have still not listened to Serial or S-Town, DON'T YELL AT ME.* But! I did finally get into podcasts and YES, you were all correct. You win! Podcasts are great. There are many podcasts on The List, waiting patiently to be heard. Someday!
Like most everyone else on the planet, I am just inundated with advertising and trailers and suggestions in my feed, which I mostly ignore 'cause Gen X is hip to your tricks, do you hear me Mr. Algorithm? Take your FOMO somewhere else, we DON'T CARE, just GIVE IT UP ALREADY.
So I totally get it. You probably don't need yet ANOTHER recommendation in your life. I just like giving kudos when I think kudos are due. I think it's a good practice. Truly though, I'm just another asshole with an opinion, so listen/don't listen, watch/don't watch, go/don't go… it's all good either way. 
xoxo, Lavinia
* As of 10.31.22: I HAVE NOW LISTENED TO S-TOWN. Omg. Y'all. I am forever changed. I have thoughts. So many thoughts. I've also read the criticisms. They're important. But see? I did get to it!